The Year 2006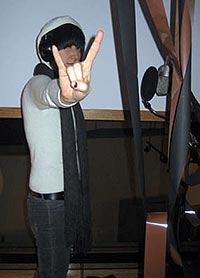 Nick Launay just finished mixing The Arcade Fire's New Album called Neon Bible. It was mixed with the band on a desk with NO automation in their studio in a church near Montreal. The results are extremely uplifting to say the least. The first song called Intervention went to radio just before Christmas, and the LP is due out in April. Just before The Arcade Fire, Launay was in London with Mr. Cave putting finishing touches to the very raw Grinderman album.
Self-proclaimed, foul-mouthed, noisy, hairy, and damn well old enough to know better, Grinderman is: Nick Cave, Warren Ellis, Martyn Casey and Jim Sclavunos. The first track available to the public is No Pussy Blues which can be heard on the band's Myspace Page. Here's a quick review:
"Set over a throbbing pornographic bass line, the world holds its breath for the onslaught of the wah's shriek of frustration and dirty water," counters Casey. "No Pussy Blues continues in the blues tradition and its timeless fascination with getting laid... or not."
The LP is self-titled, GRINDERMAN and is due out on Launay's Birthday: March 5th!
How about that!!!
The Track Listing will be:
Get It On
No Pussy Blues
Electric Alice 04. Grinderman
Depth Charge Ethel
Go Tell The Woman
I Don't Need You (To Set Me Free)
Honey Bee (Lets Fly To Mars)
Man In The Moon
When My Love Comes Down
Love Bomb
There is also a very limited edition 7" vinyl of Get it On coming out in January.
2006 has indeed been a busy one... in between Grinderman and mixing The Arcade Fire, Nick Produced a new long anticipated LP for Silverchair, some of which was recorded with a 70-piece orchestra conducted by Van Dyke Parks in Prague. The album to be called Young Modern is nearly finished and is due out in May.
Before all this, Nick started the year making an album with one of his other favorite bands: The Veils. It was recorded at a residential studio in Los Angeles called Seedy Underbelly. If you haven't heard this LP... YOU MUST, it's called Nux Vomica.
What else??? Somewhere in the middle of all this He also produced a very wild EP by a young Sydney band, The Follow. The featured song Christian Girl will make you grow claws and lengthen your teeth.